Stock Building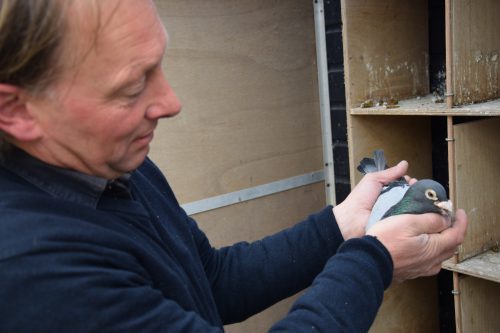 Henri van Doorn, a young father of two children Chris and Laurens, and his wife Lucie are all very fond of the pigeon sport. An uncle in his early years, Henri became familiar with the pigeon sport. Over the years there was a changing play. In the years 1997-1998 everything was tackled much more seriously, with the intention of making something of his hobby. And from the year 2000 on, Henri is the man to beat in a distant environment, so the year 2000 in WHZB was the 2nd best young pigeon scored, the 00-4052386 (Chrisje) who later proved to be one of Henri's best breeders.
Pigeon stock
In the lofts you will find pigeons from Berrie v/d Brand and Ad Schaerlaeckens. Henri puts the emphasis on breeding and preferably with proven head flyers. Many still quite young pigeons move to the breeding loft after a few early prizes. 'Breed and you will play' he has understood and executed well.
Chrisje
The absolute star and progenitor of the colony is the hen named 'Chrisje'. Henri named this pigeon young after his eldest son, that it later turned out to be a hen did nothing about her name. She kept them. The pedigree of Chrisje is from father's side the 99-903 'Armstrong' from B. v / d Brand (75% Cees Gijsen and 25% Jo Sleutjes), and on his mother's side the 99-756 'Sonja' from B. v / d Brand (lines Wal Zoontjes, Tiny van Herpen, Ad Schaerlaeckens) As a youngster she became 2nd WHZB, 1st pigeonchampion and ace pigeon rayon 1 CC Midebo, 2nd long distance young and 3rd pigeonchampion Middlefondclub Oost-Brabant Now 6 years in a row she has won 1st prize winners and pigeon champions in the world and once again to a large extent pass on her superior class to her grandchildren and great-grandchildren.In 2006, the National winner Orleans ... the 'Chrisje'.